Mission Imagination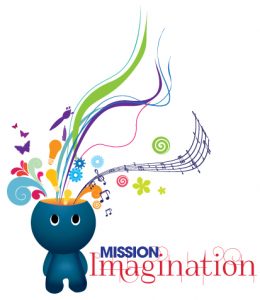 At Raue Center, we believe that a passion for performing arts begins at an early age. That's why we are committed to offering fine arts education programs through Mission Imagination at the theater and in schools for children in Crystal Lake.
Our young performers put on many popular, kid-friendly shows throughout each year—just a few examples include Wings of Courage, The Jungle Book, Curious George, and The Rainbow Fish. This program has served over 400,000 students so far. For more information, click here to view and download the Mission Imagination Postcard.
Mission Imagination is proud to offer a locked in $6 student ticket for all events for the last eight years thanks to the support of the Foglia Family Foundation. 
If you'd like to send us a request to see a show offered above, fill out this simple request form!
This Season's Shows
Four Score and Seven Years Ago
Grades: 3rd – 8th | February 7th @ 10am
To young Lemuel, who has escaped slavery in Georgia, life in Gettysburg is everything he had dreamed it would be. His ideas about the North and the South, as well as what it means to be a free man, are challenged, however, when he unexpectedly befriends Jacob, a young Confederate soldier. The two men may be of different races and on different sides of the Civil War, but they have much to teach each other about bravery and loyalty in ArtsPower's exciting and suspenseful musical.
Click here for Four Score & Seven Years Ago's Study Guide

Lightwire Theatre: Dino-Light
Grades: 2+ | February 23rd @ 10am


DINO-LIGHT, formerly known as Darwin the Dinosaur, was the recipient of the prestigious 

Jim Henson Foundation Grant and first feature-length theatrical production created and 

performed by creators Ian Carney and Corbin Popp. In this original storyline, a famous 

scientist with magic powers brings a friendly dinosaur to life. When the dinosaur wanders 

away from home, he discovers a wonderful world full of creatures that light up the 

darkness and help him find the true meaning of love. This glow-in-the-dark adventure is 

visually amazing and has been praised for its cutting edge blend of puppetry, technology and dance by audiences all over the 

World.
Click here for Dino Light's Study Guide

Nugget & Fang
Grades: PreK – 2nd | March 1st @ 10am and 12:15pm


ArtsPower's colorful new musical tells the story of Nugget, a minnow, 

and Fang, a shark, who get along swimmingly — until Nugget's first day 

of minnow school. There, Nugget learns that minnows are supposed to 

be afraid of sharks! To regain Nugget's trust, Fang takes desperate and 

hilarious measures. Nothing goes as planned. Fang is moping in deep 

waters when he notices that Nugget and his minnow schoolmates are 

caught up in some big trouble (and one very big net). Holy mackerel! Can 

Fang save the day and prove he's a true friend?


Click here for Nugget & Fang's Study Guide
Freedom Riders
Grades: 3rd – 8th | March 2nd @ 10am and 12:15pm
Freedom Riders is the latest edition to the canon of American History plays by Mad River Theater Works. This new play, with original songs and music, explores the valiant and courageous personalities behind one of the most critical chapters in the history of the Civil Rights movement. Freedom Riders demonstrates the importance of working together to affect change and specifically how non-violent protests were used to focus attention on the cruelties of segregation. Set in 1961, fifteen years after the United States Supreme Court had outlawed segregation; bus lines and cities throughout the South still enforced a rigid system of separating black and white citizens. The Freedom Riders, both black and white Americans, from the North and the South, decided to travel together on buses that crossed state lines despite the hateful segregation and racism that had a strong hold in so many parts of the United States. The unforgettable heroes, and the facts behind the events portrayed in Freedom Riders, are essential to a full understanding of the Civil Rights era and American history.


Click here for Freedom Riders's Study Guide
Mission Imagination is made possible through the generous support of the following organizations: