One Night in Memphis » Events at Crystal Lake, IL Theater
June 17 @ 8:00p

Tickets start at $26*

The official and number one tribute to Elvis Presley, Carl Perkins, Jerry Lee Lewis and Johnny Cash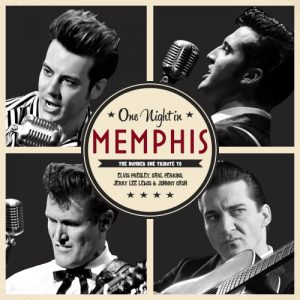 One Night in Memphis: Presley, Perkins, Lewis & Cash tributes a night in rock and roll history that still lives on today. On December 4th, 1956, Carl Perkins, along with his brothers Clayton and Jay booked a recording session at Sam Phillip's Sun Records studios in Memphis, TN.  He was to record an old blues song called, "Matchbox" that the Beatles covered as well years later.  On the session as well was one of Sam Phillip's latest acquisition's to his stable of acts, a young and cocky piano player from Ferriday, Louisiana by the name of Jerry Lee Lewis.  Not too long after they got a satisfactory take, Elvis Presley dropped by (a big star already) and listened in.  Johnny Cash dropped in as well.  A jam session then ensued and the engineer that day Jack Clement kept the tape rolling without the knowledge of anyone.  The jam session went on for quite a while and at some point during the session Sam Phillips called the Memphis Press Scimitar newspaper and they came by towards the end and shot some photos of it. An Article appeared the next day about the memorable occasion under the headline of "Million Dollar Quartet." What survives today is a recording of an event that is a momentous eavesdropping on American recording artist icons in their prime; Elvis Presley, Carl Perkins, Jerry Lee Lewis and Johnny Cash all having the time of their life singing country, gospel and rock and roll songs. It's a fascinating glimpse of rock and roll in its infancy and shows what these legends all shared in common; growing up in the south and singing gospel music in church.  You can also hear a camaraderie between major music stars in their prime, something that is rare in today's music business.
"One Night in Memphis" was created in 2012 by John Mueller, well known for his long running and successful number one tribute, "Winter Dance Party, tribute to Buddy Holly, Ritchie Valens and the Big Bopper."
For more info, visit www.onenightinmemphis.com  or www.wdpproductions.com
*Additional fees apply. Prices vary depending on zone.